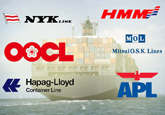 THE expanded G6 Alliance plans to expand its geographical reach and deploy 240 ships, boosting its largest ships to 14,000-TEUs, to battle the proposed P3 mega alliance of Maersk, CMA CGM and MSC.

If the US Federal Maritime Commission does not raise any questions with the member shipping lines, the revised G6 agreement will come into effect on January 16.

The updated agreement filed with the FMC on December 2 outlines the G6 plan to expand their alliance to the Asia-North American west coast and transatlantic trade lanes, as well as other changes, reports Lloyd's List.

The revised agreement proposes to increase the maximum size of vessel that member lines APL, Hapag-Lloyd, Hyundai Merchant Marine, MOL, NYK Line and OOCL can operate on US trade lanes with ships between 12,500 and 14,000 TEU.

The G6 also proposes to raise the maximum number of ships that can operate on the US trade lanes from 80 to 220. Another change is that the shipping lines will discuss and agree which US terminals to serve.

The carriers also plan to establish committees to review, make and implement administrative, operational and policy decisions relating to matters within the scope of the agreement.

"The parties may establish and maintain one or more G6 service centres to maximise the efficiency of the services operated hereunder," the filing said. These centres would be authorised to perform service coordination functions such as vessel scheduling and allocating space, noted American Shipper.

Another proposed change is that "the parties are authorised to agree on terminal pricing among themselves and with marine terminal operators to achieve desired efficiencies and cost savings and to best ensure optimal terminal utilisation".
Asian Shipper News