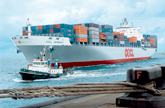 THE G6 Alliance has announced changes to its service network between North America and North Europe "within the scope of the new cooperation" and its entry into the transatlantic trade, starting from May.

The following transatlantic services will be offered: Atlantic Express 1 (AX1) with its first westbound sailing from Le Havre scheduled for May 11.

The Atlantic Express 2 (AX2): The first westbound sailing is scheduled to depart from Southampton on the same day.

The Pacific Atlantic 1 (PA1): First westbound sailing departs from Southampton two days later.

And Pacific Atlantic 2 (PA2), which will leave Rotterdam on May 12.

The new service structure will expand the port coverage by including direct eastbound calls from Jacksonville, Miami and Vancouver, enhanced port-pair connections, as well as improved shipping schedules, said a statement issued by OOCL on behalf of the other shipping line members.

In addition to the four new products, OOCL will continue to offer its two Gateway Express services (GEX 1 and 2) between Montreal and North Europe as part of its transatlantic services.
Asian Shipper News