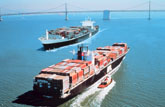 SeaIntel says the proposed P3 Network will have a younger fleet than the G6 alliance.

The SeaIntel Sunday Spotlight newsletter analyzed the age of the current G6 and P3 fleets deployed on the Asia-Europe, Asia-U.S. West Coast, Asia-U.S. East Coast, and North Europe-U.S. East Coast trades, noting "age serves as a good proxy for the fuel efficiency of the different vessels, and hence a significant aspect of the differences in costs the two alliances will have."

The average age of ships the P3 has imposed on the four trades is 6.7 years, while the average age for the vessels deployed by the G6 carriers are 7.6 years.

"This significantly younger fleet, combined with the fact that the P3 carriers will deploy significant larger vessels than the G6 carriers, means that the P3 alliance will have substantial lower unit cost than the G6 alliance," SeaIntel said.

Alan Murphy, chief operating officer and partner at SeaIntel, stated: "Our analysis shows that the P3 carriers on average have a younger fleet, however the G6 carriers have a significantly younger fleet deployed in the Asia-Europe trade, compared to the P3 carriers. The vessels deployed on Asia-Europe by G6 are on average 1.8 years younger than the vessels deployed by the P3 carriers. This will help the G6 carriers reducing their unit cost disadvantage compared to the P3 carriers, due to the relatively longer round-trips on Asia-Europe."
American Shipper