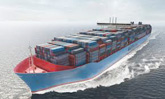 INTERNATIONAL container traffic increased 2.4 per cent in 2013 to 127 million TEU on the back of Asia-Europe and transatlantic trade growth, according to Container Trades Statistics.

Asia to Europe traffic increased 3.7 per cent year on year to 14 million TEU mark, falling short of the 14.2 million TEU mark achieved in 2011.

Dragging down Asia-Europe figures was the lacklustre performance of trades from Asia to the western Mediterranean and North Africa, which fell 13.9 per cent short of the 2011 high point.

Asia-North Europe was up two per cent year on year 9.1 million TEU in 2013 while Asia-West Med/North Africa volume increased four per cent 2.4 million TEU, while Asia-Black Sea/East Med volumes increased 10.3 per cent to 2.5 million TEU.

Europe-North America transatlantic westbound was up 3.9 per cent year on year to 3.6 million TEU. Eastbound volumes were up two per cent to 2.7 million TEU.

Year-on -year December increases were 6.2 per cent against 5.3 per cent posted in November.
Asian Shipper News