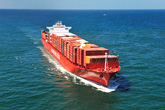 Cascading of larger vessels from east-west into north-south trades is nothing new. But the pace of cascading and the impact it's having in traditionally profitable north-south markets are gaining increased attention.
The trade connecting Northeast Asia-Australia is a case in point, but it's not the only one, says Drewry. As of last July, more than a hundred ships of 7,000 to 10,000 TEUs deployed on Asia-Europe needed to be cascaded elsewhere through 2016 as they get replaced by even larger tonnage, Neil Dekker, Drewry's head of research, told the JOC's TPM Asia conference last fall.
The latest illustration comes out of the market between Northeast Asia and Australia. In that market, ship sizes increased by 8 percent on average to 4,365 TEUs during the 12-month period between the third quarter of 2012 and the third quarter of 2013, and they have kept growing since. By the fourth quarter of last year, the average vessel size was 4,650 TEUs, and by January 2014, the average size was 4,900 TEUs, Drewry said.
The market has responded, and hardly positively from the carriers' point of view. Spot rates from Shanghai to Melbourne as tracked by the Shanghai Containerized Freight Index declined by 38 percent from November last year through March, with a "miserable" rate of $1,560 per FEU, according to Drewry's Container Freight Rate Insight. Rates between Asia and Australasia/Oceania as tracked by the Container Trade Statistics index for this market saw declines of about 10 percent and 9 percent in January and February of this year. Zim left the market in January after almost 20 years, according to Alphaliner.
Rates are also increasingly volatile, swinging as much as 50 percent in the first quarter, and "there appears to be little active capacity management to remedy this," Drewry said. There is no indication, for example, that carriers have blanked or voided sailings to keep capacity in check, Drewry said. The vessel utilization rate in the southbound Asia-Australia trade lane dropped from 81.3 percent in January to just 52.9 percent in February, in conjunction with a drop in container volume tied to Chinese New Year. While the utilization rate for March has yet to be published, the spot rate for the month appears to show it has further declined or any increase has yet to be reflected in rates.
Other markets are seeing the same phenomenon. Rates from Asia to Brazil plummeted from more than $1,900 per TEU in January 2013 to $500 to $600 per TEU by October 2013, as capacity on the Asia-Brazil headhaul route spiked 17.9 percent from January to July. Cargo volume did not keep pace with the rising capacity, increasing only 4.1 percent year-over-year, and as a result, carriers collectively lost an estimated $152 million in the first half of 2013, Dekker told TPM Asia last fall.
The increased cascading is coming as growth in north-south trades is slowing. According to Clarksons, container shipping demand in north-south routes in the aggregate increased 4.9 percent in 2013 and is forecast to grow 5.7 percent in 2014. Growth was 10.3 percent in 2011 and 3.1 percent in 2012.
To recover in the Asia-Australia market, carriers are trying to force up rates through a series of general rate increases, similar to tactics used on Asia-Europe headhaul trade, where GRIs are regularly introduced and then typically erode until the next one is implemented.
MSC, Hapag-Lloyd and Hamburg Süd recently announced GRIs for the southbound Asia-Australia leg of $500 per TEU and $1,000 per FEU, effective May 15. MSC implemented a GRI on April 1, which gained little traction. Member lines of the Asia Australia Discussion Agreement have also scheduled a $550 per TEU and $1,100 per FEU hike on shipments from Japan, South Korea, China, Hong Kong and Taiwan to Australia, beginning May 17.
The Journal of Commerce