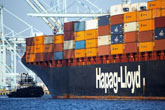 German container shipper Hapag-Lloyd and its Chilean peer Compania Sud Americana de Vapores have signed a binding merger agreement that will create the world's fourth-largest container-shipping company in terms of capacity.

Hamburg-based Hapag-Lloyd said CSAV would control 34 percent of the merged entity after two capital increases totalling US$1.02 billion, reported Dow Jones Newswires.

The two companies will have a combined annual revenue of $12.46 million and a transport capacity of one million, 20-foot containers aboard 200 ships.

Hapag-Lloyd is scheduled to be listed later this year on the Frankfurt Stock Exchange.

Big mergers are rare in the container-shipping industry, which moves 95 percent of all manufactured goods. The industry is dominated by families and sovereign-wealth funds, typically better equipped than publicly traded firms to endure years of losses during long down cycles.

But recently, pressure to consolidate has increased ahead of the expected launch later this year of an alliance between Denmark's A P Møller-Maersk, Switzerland's Mediterranean Shipping Co and France's CMA CGM, the industry's top three players in terms of capacity. The alliance, called P3, would control about half the market share of the world's busiest trade routes.

Hapag-Lloyd operates about 150 ships, competing head-on with the P3 partners on the Asia-Europe, transatlantic and transpacific routes. CSAV operates about 50 vessels.
Cargonews Asia