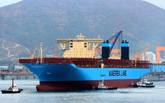 DELIVERIES of newbuildings are continuing with APM-Maersk receiving the Maribo Maersk, the seventh of its 18,270 TEU 'EEE'-class vessels from the Daewoo shipyard (DSME) to operate in the Asia-Europe trades.

The vessel follows a February delivery. Deliveries of this class of ship began in June 2013 after the order was placed in 2011.

Hapag-Lloyd has taken delivery of the Ludwigshafen Express, the ninth of ten 13,169 TEU ships from Hyundai Heavy Industries (HHI). She has joined the G6 Asia-Europe Loop 4.

Four of the ships were ordered directly while six contracts resulted from the upgrade of an earlier order for six 8,750 TEU vessels initially contracted in February 2008, reported Alphaliner.

MOL has received the MOL Contribution from the Mitsubishi Nagasaki shipyard. She is the second of two 8,600 TEU units ordered by MOL in June 2011.

Originally scheduled for November 2013, her delivery was delayed to make structural enhancements on the vessel's hull, following the splitting of sister ship, the MOL Comfort, in the Indian Ocean last June.

The newbuilding will be phased into the Far East-US west coast 'PSX' service to reduce the shipping line's exposure on the Asia-Europe sector, with the number of weekly Asia-Europe strings operated by the G6 alliance reduced from seven to five.
Asian Shipper News