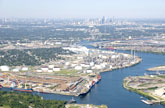 CaroTrans, a NVOCC (non-vessel operating common carrier) and ocean freight consolidator, will launch a new, weekly LCL export service from Le Havre, France to Houston from April 5.

The direct service shortens shipping time by 5-11 days for freight moving from France to the US Gulf region including Houston, Dallas, San Antonio, El Paso, Laredo Austin, New Orleans, Tulsa, Oklahoma City, as well as Los Angeles on the West Coast.

The Le Havre departure point eliminates the congestion, delays and additional handling associated with routing via Antwerp and Rotterdam. Transit times are the fastest in the market.

As a gateway to Mexico and all of Latin America, Houston as a trade link facilitates expedited service for French exports to these important growth markets.

"Houston is a growing, strong market and gateway for global trade. Direct service from Le Havre to Houston will speed up shipments to this important trade link to enhance supply chain performance and better serve this trade region," said Greg Howard, CEO of CaroTrans.
Cargonews Asia