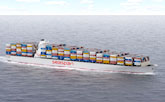 DELIVERIES of containerships are continuing with more mega capacity to hit the main trades as China Shipping Container Lines, Hanjin and Evergreen are to take in charge three new ships: two of 10,000 TEU and one of 8,452 TEU for Evergreen.

China Shipping Container Lines has received the CSCL Summer, second of eight 10,036 TEU ships ordered from Chinese shipyards in October 2011 for US$94.3 million apiece, reported Alphaliner.

The order was shared between two yards, Hudong Zhonghua and Dalian Shipbuilding HI. An option for the shipping line to purchase four more vessels lapsed in April 2012.

The newbuilding is to join the America-Asia Container (AAC) service that is starting to deploy 10,000 TEU ships in place of the 8,500 TEU vessels. Evergreen, UASC and Yang Ming take slots on this service.

The 10,000 TEU Hanjin Buddha has been received by Seaspan, the first of seven containerships ordered in June 2011 from Jiangsu Yangzijiang by Seaspan (three ships) and Greater China Intermodal Investments LLC (GCI) (four ships), with the backing of a Hanjin.

The Hanjin Buddha will start her career with a single rotation on the transpacific 'CPS 2/CAX' service jointly operated by Evergreen and Hanjin, with six ships of 3,600-4,400 TEU. This service will be replaced in May with a new Far East-US west coast service using bigger ships.

The seven ships will be managed by Seaspan.

The 8,452 TEU Ever Loyal has been delivered to Evergreen, the 18th ship in a series of 30 ships built by Samsung. These ships are part of a 55-ship newbuilding programme that will add 575,000 TEU to the Evergreen fleet between 2012 and 2017.

The newbuilding is owned by Evergreen Marine Corp. It will join the Far East-Arabian/Persian Gulf (APG) service, which is in the course of upgrade from 7,000 TEU vessels to the 8,500 TEU ships.
Asian Shipper News