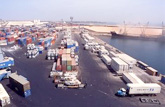 MOL, Evergreen Line and Cosco are launching a weekly direct service from Asia to West Africa, branded the WA1, to meet the increasingly diverse commercial requirements in Africa.

At the same time French shipping group CMA CGM is continuing to flex its muscles in the West Africa trades by adding capacity to its ASAF service by deploying 12 containerships of 5,700 TEU.

In so doing, it has become the first carrier to use ships of this size to call directly at West Africa ports.

The joint MOL, Evergreen Line and Cosco WA1 service operated with 12 vessels will commence from Shanghai on June 2. Six of the ships are provided by MOL, four by Evergreen Line and two by Cosco.

The port rotation for the WA1 service is Shanghai (Mon-Mon), Ningbo (Tues/Wed), Hong Kong (Fri/Fri), Guangzhou-Nansha (Sat/Sat), Singapore (Thurs/Thurs), Lagos Apapa (Mon/Thurs), Tema (Fri/Mon), Lome (Mon/Fri), Abidjan (Sun/Wed), Singapore (Mon/Mon) and back to, Shanghai (Mon/Mon).

It's launch coincided with the arrival of the first ship operated on the ASAF service at Walvis Bay, Namibia on May 9. It will reach Pointe Noire in Congo on May 14 and Luanda, Angola on May 17.

This comes as the CMA CGM has been ramping up its presence on the continent since the beginning of the year, acquiring a 25 per cent stake in Nigeria's Lekki Terminal.

The group launched two new services during this period, including a feeder to Mozambique ports; and the Noura Express, a new service linking the world with Somalia through its hub in Khor Fakkan.

It also opened two new offices in Mauritania, in Nouakchott and Nouadibhou; and opened a new office in Maputo, Mozambique, as well as two new offices in Madagascar, in Tulear and Antsiranana, bringing the number of offices in Madagascar to eight.
Asian Shipper News