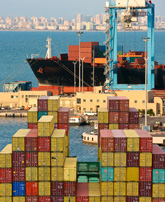 SHIPPING lines are seeking a general freight rate hike to stick in July on the Asia-Europe trade after prices on services to northern Europe picked up steam.

The latest figures from the Shanghai Containerised Freight Index show that freight rates on services from Shanghai to northern Europe increased by US$19 on a week ago to $1,202 per TEU.

Prices from Shanghai to the Mediterranean slid $90 week on week to $1,671 per TEU, with reports suggesting this could reflect a decline in utilisation over the Ramadan holidays, reported Lloyd's List.

Freight Investor Services (FIS) broker Richard Ward said: "Carriers will hope that July offers more support than what has been witnessed from the June attempt with the SCFI showing an increase over the past few weeks of just $47 per TEU."

In mid-June 2013 prices to northern Europe stood at $533 per TEU and to the Mediterranean, the SCFI reached $1,202 per TEU. For services to the Mediterranean, the average weekly price stands at $1,550 per TEU, compared with $1,173 last year.

On the transpacific trade, Drewry's Hong Kong-Los Angeles Container Rate Benchmark stands at $1,750 per FEU, the same price as a week ago.

Analysts said they expect "prices to increase over the coming weeks on the back of a peak-season surcharge of $400 per FEU as requested by the rate-recommending group, the Transpacific Stabilisation Agreement.

Asian Shipper News