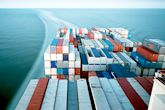 Several carriers have planned general rate increases in multiple trade routes in June and July, although any gains achieved could be fleeting as overcapacity and sluggish global demand continue.
Shipping lines in their global operations have lost billions of dollars in four of the past five years because of overcapacity fostered by a rash of orders for new, large container ships. Although only four carriers in the world today have ships of 18,000 TEUs or larger either in operation or on order, more container lines may join the mega-ship club in the future as they seek to remain cost-competitive.
A dramatic surge in container ship scrapping in recent months is set to continue, but it will minimally impact oversupply in east-west trades, as most of the ships sailing to demolition yards remain below 6,000 TEUs, according to Drewry. With another 1 million TEUs of new capacity expected to be delivered from May through December, the global container ship fleet is still forecast to grow 5.6 percent this year, according to Alphaliner's latest newsletter.
Asia-Europe
In the backhaul lane, Maersk Line has scheduled a rate increase of $100 per container on cargo moving from the Mediterranean to the Far East, excluding Japan, starting June 1. For shipments from Ukraine, the hike will be $50 per container.
Latin America-Related Trade
Two carriers have planned rate hikes effective June 15:
Cosco Container Lines plans to implement an increase of $600 per 20-foot container and $1,200 per 40-foot and 40-foot high-cube container on its trade from the Far East to South America's west coast and Mexico.
Maersk hopes to raise rates on shipments from the Far East to South America's west coast and Central America by $600 per 20-foot container; $900 per 40-foot non-operating reefer container; and $1,200 per 40-foot, 40-foot high-cube and 40-foot high-cube reefer container.
Maersk also hopes to hike rates on its trade from South America's west coast to Oceania by $150 per 20-foot container and $300 per 40-foot and 45-foot container.
Oceania-Related Trade
Beginning July 1, Hamburg Süd aims to raise rates on cargo from western Canada to Australia and New Zealand by $250 per 20-foot container and $500 per 40-foot container.
The Journal of Commerce