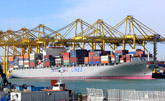 "Financially troubled deep-sea ocean carriers are increasingly seeking salvation in the intra-Asia market due to higher than usual cargo growth and the availability of cheap vessel charter rates," said Drewry, the London-based consulting and research company.

The most recent issue of Drewry's Container Insight Weekly reported that it seems that regional services are announced in the Asian market almost every month. It continued that "there is money to be made out of such services," pointing to the strong performance of Wan Hai, an intra-Asia specialist since 2009.

Wan Hai "has consistently outperformed many of its peers since 2009 in terms of extracting operating profit out of every dollar earned (i.e. return on sales), despite not having their economies of scale," Drewry said. "And OOCL, the next best declared performer after Maersk and CMA CGM, captured 53 percent of its total traffic from the intra-Asia market in 1Q14."

With global carriers starting more intra-Asia services, Drewry found that regional carriers are making a play on lanes, trying to limit capacity and provide strong competition for the larger carriers. "Last month, Sinotrans, Pan Asia Shipping (intra-Asian arm of Coscon), and Shanghai Puhai Shipping (intra-Asian arm of CSCL) formed an operating alliance on services run between China and Japan. And China's SITC Container Lines and Shanghai Hai Hua Shipping (Hasco) have agreed to work more closely together between China and Japan," the company said.

"Deep-sea ocean carriers will continue to use cheap charter rates to become further established in the intra-Asian market, and then use their own tonnage afterward to squeeze out smaller competitors on routes where vessels over 2,000 TEU can be safely deployed. Strong cargo growth is helping carriers to improve freight rates at the moment, but the supply/demand balance is fragile," Drewry predicted.
American Shipper