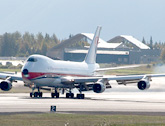 OCEAN freight has gained over air cargo with commodities previously given priority on air shipments migrating to sea due to slow growth of traditionally high-value items with time sensitivity.

According to Seabury Group executive director Gert-Jan Jansen, the average growth of ocean trade exceeds air trade siphoning off its containerised trade by seemingly small percentage points.

If air-cargo tonnage growth had remained stable over a 13-year period ending 2013, the sector would have seen a shift of volumes handled of 15 million tonnes, he added in a report from US-based Forbes magazine.

The narrowing of price differentials has played a part but also the value of shipments themselves with hard disk drives dropping air share by 80 per cent against increasing demand for low-grade integrated circuits.

Despite air freight end-to-end transit times beating off ocean freight trade, reduced further by slow-steaming, the demand for components is not high enough to make it essential.

IATA global head of cargo Desmond Vertannes believes that shaving off 48 hours on transit times by 2020 will "would make a huge difference to our value proposition, and enable the industry to arrest modal shift, and drive new efficiencies for the business."

The growth in passenger Boeing 777s, coined the "mini-freighter" by Cathay Pacific's James Woodrow, has saturated the market with belly capacity on a variety of destinations already full with freighter capacity.

Air cargo carriers are also competing with large shippers with their own aircraft, such as FedEx and UPS. These so-called integrators have cut into the airlines' market share by handling an increase in heavier shipments.

Air industry standardisation has also been highlighted as an obstacle to business with eAWBs (electronic air waybills) failing to penetrate at 12 per cent in March against aim of 22 per cent.

A lack of overall investment in IT platforms has made the paperless air freight a difficult challenge for carriers to embrace, added IATA's Mr Vertannes.
Asian Shipper News