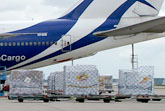 Preliminary Asia Pacific traffic figures for October showed a stabilization of air cargo traffic and sustained growth in international passenger markets, according to the Association of Asia Pacific Airlines.
International air cargo demand as seen by Asia Pacific airlines provided further evidence that volumes have stabilized following weak market conditions over the past two years.
Expressed in freight tonne kilometres, international air cargo traffic registered a 2.1-percent increase compared to the same month in 2012.
The growth did not keep pace with the 4-percent increase in offered freight capacity, resulting in a 1.2 percentage point fall in the average international freight load factor, to 66.1 percent for the month.
"Overall, a total of 182 million international passengers flew on Asia Pacific airlines during the first 10 months of the year, a solid 5.9-percent increase compared to the same period last year. The continued recovery of the global economy boosted traffic for the region's carriers, driving further growth in both business and leisure travel," Andrew Herdman, AAPA director general, said. "In air cargo markets, the cumulative decline in airfreight demand narrowed to 1.3 percent during the first 10 months of the year. Asian carriers remain optimistic for the longer term recovery of the air cargo market, after seeing prolonged weak demand conditions. The steady improvement in global business conditions, and the tentative recovery in consumer sentiment seen in the major developed economies, give us added confidence in future growth prospects, even though competitive pressures are still weighing heavily on both yields and margins for Asian carriers."
Aircargo World