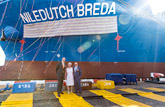 The naming ceremony of the first of four NileDutch new build vessels, the MV NileDutch Breda, was held on 28 May 2014 at the Shanghai Shipyard on Chongming Island, Shanghai, China. Anneke van Aalst, wife of NileDutch president Wim van Aalst, was the ship's godmother.
The ceremony was attended by representatives of the shipyard, the Dutch consulate in Shanghai, port authorities and NileDutch business partners and customers. NileDutch is expanding its fleet with four custom-designed container vessels to offer an improved service to key markets in West Africa. These vessels will be registered in the Netherlands and fly the Dutch flag.
Wim van Aalst (president NileDutch) and Anneke van Aalst (ship's godmother) in the middle
(Tetyana Chebotar Photography)

The dimensions and deck equipment of the four new vessels are tailored to the ports they will serve in West Africa. This will enable NileDutch to serve this key market even better. Each vessel has a capacity of 3510 TEU (1530 in the holds and 1980 on the hatch covers). The efficient 20,000 kW engines will ensure operational efficiency and a low environmental impact. The vessels have a length over all of 224 metres, beam (width) of 34.8 metres and draft of 12.5 metres. The other three vessels will be completed later this year. The new builds will operate on NileDutch's busy West Africa - Far East rotation.
City of Breda
The MV NileDutch Breda was named after Breda, a historic city in the South of the Netherlands. Founded in the twelfth century, the city now has a population of around 180,000. Located between the ports of Rotterdam and Antwerp, and relatively close to Amsterdam and Brussels, the city is an important logistics hub. Breda has been home to the Nassau-family (ancestors of the Dutch royal family), Charles II of England while in exile, and world-famous painter Vincent van Gogh. The other three new NileDutch vessels will also be named after European cities.
VietnamShipper
(Source: NileDutch)