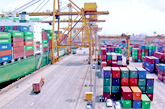 SRI LANKA's Port of Colombo handle a total of 4,306,206 TEU in 2013, representing an increase of 2.8 per cent compared to 2012's throughput, with transhipment volume up 4.7 per cent.

Domestic cargo volume showed modest growth of just 1.1 per cent.

The Sri Lanka Ports Authority (SLPA) recorded a total container throughput of 2,501,863 TEU last year, up 8.0 per cent compared to the previous year.

The SLPA's transhipment operations rose by 12.3 per cent against 2012 to 1,779,882 TEU in 2013. Domestic operations were up 1.8 per cent year on year, reported Sri Lanka's national newspaper, Daily News.

The SLPA's Jaya Container Terminal (JCT) handled a record monthly total of 235,750 TEU in July last year, after port authorities attracted new business from seven major shipping lines.

To develop the nations' ports the Sri Lanka Ports Authority (SLPA) has recently commenced the Colombo Port Expansion Project (CPEP) to build the East Terminal, with operations targeted to commence in the near future.

A 400 metre terminal and a container yard facility will be constructed under phase I at a cost of US$80 million. The new terminal will be equipped with facilities to handle the mega containerships that will join the international maritime fleet in the coming years.

The SLPA also plans to commence construction of the Colombo Port City Development Project that will cover an area of 233 hectares in close proximity to the port and will feature mega shopping malls, hotels and residential housing.
Asian Shipper News