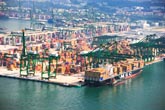 SINGAPORE port handled a record total of 32.6 million TEU in 2013, an increase of 2.9 per cent compared to the previous year, making it the world's second busiest container port after Shanghai's throughput rose 3.4 per cent to 33.6 million TEU.

Total cargo tonnage handled last year rose 3.6 per cent over 2012 to reach 557.5 million tonnes, according to figures from the Maritime and Port Authority of Singapore (MPA).

Annual vessel arrival tonnage reached 2.33 billion gross tons (GT) in 2013, an increase of 3.2 per cent from the 2.25 billion GT achieved in 2012. Containerships and tankers were the top contributors, each accounting for 30 per cent of total vessel arrival tonnage, a MPA statement said.

The total tonnage of ships under the Singapore Registry of Ships grew by 13.2 per cent, or 8.6 million GT, year on year to 73.6 million GT in 2013, putting Singapore among the top 10 ship registries globally.

Singapore remains the world's top bunkering port after 42.5 million tonnes of bunkers were sold last year, down slightly from 42.7 million tonnes in 2012.
Asian Shipper News