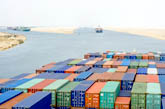 CONTAINER shipping lines belonging to the G6 Alliance (APL, Hapag-Lloyd, HMM, MOL, NYK and OOCL) are commencing two new Far East-US east coast services via Suez starting May 17 with slots taken by Zim.

The new CEC service has a port rotation of Hong Kong, Shenzhen-Shekou, Shenzhen-Yantian, Singapore, (Suez), New York, Savannah, Charleston, Norfolk, (Suez), Jeddah, Singapore, Cai Mep and back to Hong Kong.

A report by Alphaliner said that since plans for the new services were initially announced in March a Savannah port call has been added to the CEC's rotation.

The CEC will deploy 11 ships of between 8,000 and 8,600 TEU, with an average weekly capacity of 8,367 TEU. The 8,598 TEU Seattle Express will make the first sailing from Hong Kong on May 17.

The second new service the AZX will call at Laem Chabang, Singapore, Colombo, (Suez), Damietta, Cagliari, Halifax, New York, Savannah, Norfolk, Cagliari, Damietta, (Suez), Jebel Ali, Singapore and back to Laem Chabang.

Ten vessels ranging in size from 5,000 to 7,500 TEU will be used to operate the service to provide an average weekly capacity of 5,987 TEU.

The AZX service will be launched with the sailing of the 5,888-TEU OOCL Oakland from Laem Chabang on May 20.
Asian Shipper News